At the Mile 2 Central Prison, located on the outskirts of Banjul, visitors are now greeted with the sight of prisoners managing a micro-garden and producing soaps in the courtyard.
A few meters from the main gate of the prison is a green micro-garden managed and maintained by inmates. During the Youth Empowerment Project's visit to the institution, the happy-looking inmates can be seen pulling weeds and watering the crops with the expectation of a bumper harvest in a month's time. In conjunction, other inmates have inputs ready to produce soaps.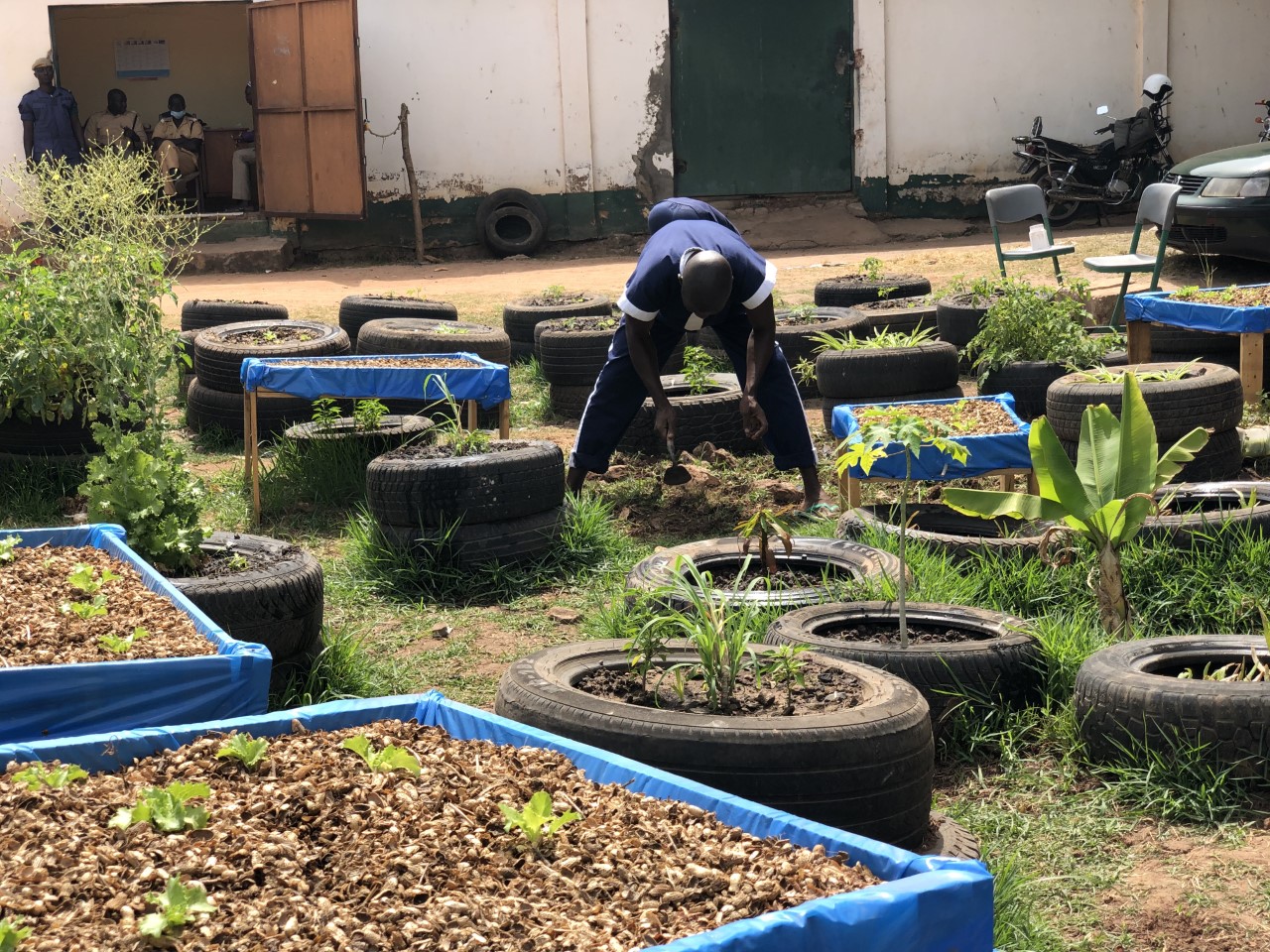 "Mistakes have been made. We are convicted. We are now learning from them and ready to make amends. This project is a life-changer, and we are happy to be benefitting from it." An inmate with a beaming smile and a strong hope for the future narrated.
A total of 30 inmates underwent a 3 weeks training on micro-gardening, soap production, and entrepreneurship. The training seeks to build the skills and knowledge of inmates to promote their re-integration into the community. For the inmates, the initiative is a life changing one - for it has built their skills, instilled hope, optimism and increased their employability.
With a smile and a happy voice, they shared: "We have found solace in this. Now all of us are productive. More than keeping us engaged in prison, this initiative is making our life after prison journey an easy one. With these set of skills, we are confident of being employed upon release thereby generating income and living a new life."
Prisons are not only built to incarcerate convicts but also to facilitate reformation and social rehabilitation. This can be done by providing training programmes to inmates - crucial in reducing a cycle of recidivism. To give inmates a second chance in life.
The inmates recall how life used to be before the intervention of YEP. While gazing at the sun, in a calm, soothing voice one of them shared "I have spent 1 year 11 months in this prison. Before this project, on a normal day at this time, I would have been locked up in my cell. My daily routine was eating, sitting and sleeping. I was so unproductive. The idleness evoked in me lots of thoughts and it was draining me mentally."
The inmates can now manage a micro garden and produce different types of soaps with little or no supervision. The first major sales they made came in March 2022 when the First Lady of The Gambia Madam Fatoumatta Bah Barrow visited the prison.
"We have started producing soaps. We sold our first batch of products to Her Excellency the First Lady of the Republic of The Gambia who was on a visit to the prison and distributed the rest to the other inmates. Our crops are also growing, and we hope to harvest in a few weeks."
The inmates have great plans for the future. Most of them are planning on making soap production as a trade upon release from prison. The future according to them is promising.
"Before the training, I had no skills. I hope to establish a soap-making factory in the future and sell on a large scale. I will do soap production as a living," an inmate shared.
The training programme was designed and initiated with the belief that every person, if given the opportunity, can change and make a better life for themselves.
This initiative was supported by EU-funded Youth Empowerment Project (YEP) in collaboration with Africa Start-up /Myfarm. Micro gardening is an intensive agricultural solution in which plants/vegetables are grown more intensively, making the best use of limited spaces and optimising water usage. Thus, it can improve livelihood, create jobs, and increase the competitiveness of smallholder farmers and vulnerable communities.
---
Enjoyed this post by Isatou? Share it with others.
View count: 672
All posts