"My biggest motivation has been wanting to do things that people think cannot be done by a woman." Ellen S. Sambou has the zeal to defy the odds in a male-dominated field. Studying Refrigeration and Air conditioning at GTTI was an undertaking meant to encourage more women to challenge the norm and realize their full potential. "I chose this because it is a field widely dominated by men and women should not be left behind," she shared. In the beginning, it was not easy for Ellen as the stereotypes kicked in, but her drive to achieve measurable results in this field for a fair workforce kept her moving. Like many students who juggle adult life and higher education, the financial burden almost became unbearable. However, the determined Ellen knew she was meant to overcome every obstacle that was to serve as a deterrent in achieving her vision.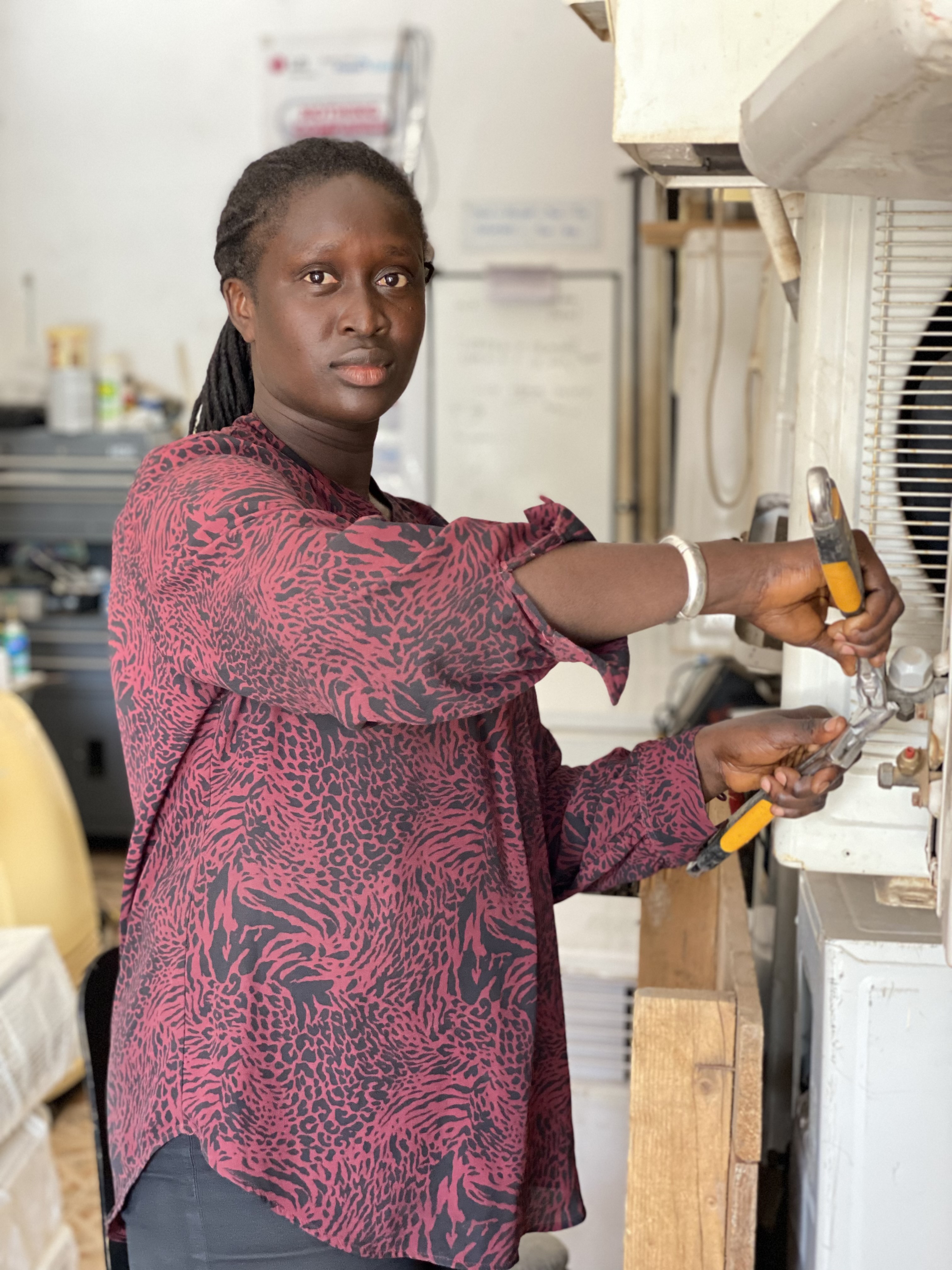 "As a woman, I found the beginning of my technical career very difficult. Imagine going to learn with no lunch money sometimes and being an apprentice at a workshop with no transport allowance." She adduced and added, "but today I thank God for every little thing that I have. Indeed, faith and self-conviction can move mountains, whatever you believe that you can do, try hard and you shall see the results."
Ellen is a recipient of the Youth Empowerment Project (YEP) mini grant. The amount of D50,000 presented to her through NACCUG was able to rent her a shop and get her relevant materials to begin operating her new venture. "The Youth Empowerment Project boosted my potentials as I got to buy some materials such as Long ladder Oxy-acetylene, Vacuum pump, Manifold gauge, Cordless drill, Tools set, Allen key set, Socket set, Rotary hammer, Stoning hammer, Machinist hammer, AC voltage detector to name a few."
Ellen believes that the #TekkiFii slogan has been working well in practicality as it has become a motivation for Gambian youth to invest and create meaningful jobs in the country. What the grant was able to do for her repairing and servicing of cooling items has been immense in boosting her capacity and income, she highlighted.
"Before receiving the grant, I did not have the proper tools, but that narrative is in the past now. With knowledge of the opportunities in the sector, and the enormous impact it can create, I want more women to be part of it."
With intentions to set up a company and train more women technicians, Ellen has set a decent path of living for her staff and three apprentices under her supervision.
---
Enjoyed this post by Isatou? Share it with others.
View count: 2030
All posts