"It was like climbing a mountain." These were the words of Kara Jagne describing the moment he won last year's Kanifing Municipal Council Mayor's Challenge.
With support from the International Trade Centre (ITC) through the European Union-funded Youth Empowerment Project in partnership with the Lord Mayor of KMC and the Gambia Chamber of Commerce and Industry (GCCI), the challenge allowed young entrepreneurs, like Kara to be the central drivers of innovation. It was designed to spur impact-driven entrepreneurial solutions to tackle specific socio-economic challenges affecting the Kanifing Municipal Council (KMC) due to the COVID-19 pandemic.
Reflecting on this challenge in 2020, here are growth testimonies from the winners.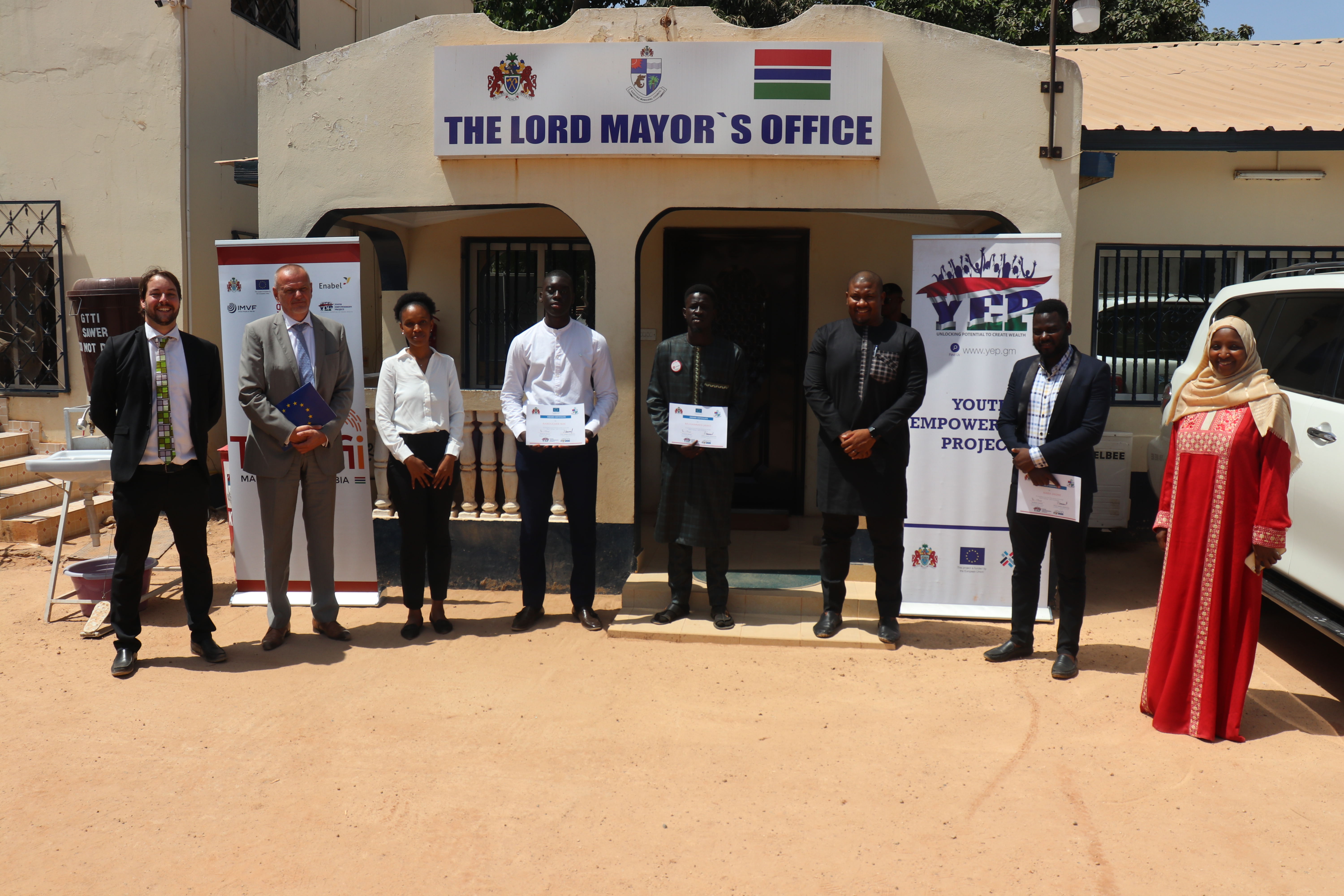 Kara Jagne, GISQO - Reaching new heights
With the government-imposed closure of schools, final-year high school students in the KMC region experienced significant learning disruptions due to the COVID-19 pandemic. As co-founder of the software development and digital marketing company GISQO, Kara and his team launched an academic quiz gaming app to help students practice standard examination questions. With more than 5000 downloads, the Gam-quiz app encourages students to "keep dreaming of reaching new heights" by providing an interactive platform for students to study better and prepare for the Gambia Basic Education Certificate Examination (GABECE) and the West African Examinations Council (WAEC). Kara describes his journey as a winner of the challenge as "a fantastic one" which gave him access to mentorship support, seed funding, and access to a broad network of entrepreneurs. With his Co-founder, Kara was able to employ six people and has acquired office space.
Muhammed Jawo, Le Jumbo - Digitizing the marketplace
At the onset of the pandemic, Muhammed Jawo saw an opportunity to launch a digital solution for consumers to access a variety of products from the convenience and safety of their homes. His winning business idea, Le Jumbo provides an online marketplace connecting producers and consumers through doorstep delivery. A year after winning the challenge, Le Jumbo now offers a broader range of products on its platform. As he emphasized, e-commerce is a fundamental addition to each business as online shops are always open, and income can always be generated. In addition, he has scaled up to over eight staff and expanded his delivery reach.
Baboucarr Njie, Outboost Media - Advertising on the go
Outboost Media & Analytics took the leap into mobile, data-driven marketing by using taxis as a medium of advertising. Using his limited personal funds to start his taxi advertisement business, Baboucarr Njie knew that to validate his products, he would need external funding. The KMC Mayor's challenge was the perfect chance for the young entrepreneur to receive guidance and capital to seed fund his business idea. Today, Outboost Media, as the third winner of the challenge, is driving brands to customers by merging traditional Out-of-Home (OOH) advertising with digital solutions using impactful and measurable mediums.
All three KMC challenge winners highlighted the major barriers faced by young entrepreneurs in The Gambia, which include lack of access to finances, lack of awareness on legislation, and lack of entrepreneurial skills. According to all three winners, the challenge created a space for innovators to develop home-grown solutions while also tackling the barriers they faced as young entrepreneurs. They were able to upscale their businesses and create opportunities to employ other Gambians
In 2021, to support inspirational innovators and change-makers like Muhammed, Kara and Baboucarr, the International Trade Centre through the EU-funded Youth Empowerment Project and the UN Peacebuilding Fund in partnership with Gambia Chamber of Commerce and Industry (GCCI) rolls out a Women's Challenge Fund. This challenge meant to bridge the gender gap is focused on creating solutions to socio-economic barriers faced by women entrepreneurs with a special spotlight on rural areas. Baboucarr highlighted the need to boost women leaders more within society and give them more self-confidence in being able to be successful in business.
These achievements bring so much delight to everyone at ITC as we carry on work to provide women and young people with the desired opportunities to Tekki Fii.
---
Co-authored by Yassin Gai, Associate Officer, ITC and Milena Niehaus, Intern, ITC.
---
Enjoyed this post by Isatou? Share it with others.
View count: 1518
All posts
Related post:

In collaboration with The Gambia Telecommunications and Multi Media Institute (GTMI) and Sterling Consortium, 168 young people benefitted from intensive trainings in areas such as solar installation, CCTV installation and programming, satellite installation and programming, and mobile and laptop repairs.

Posted 4 years ago