Inspired by the natural colors of fabrics, the beauty in nature, and how that can translate into exquisite designs that sit immaculately on the skin, Mariama Ceesay ventured into tailoring and fashion with a hope to enhance beauty embedded in clothing. Her family and community members were her first customers. They would patronize her business and promote it to help expand her customer base.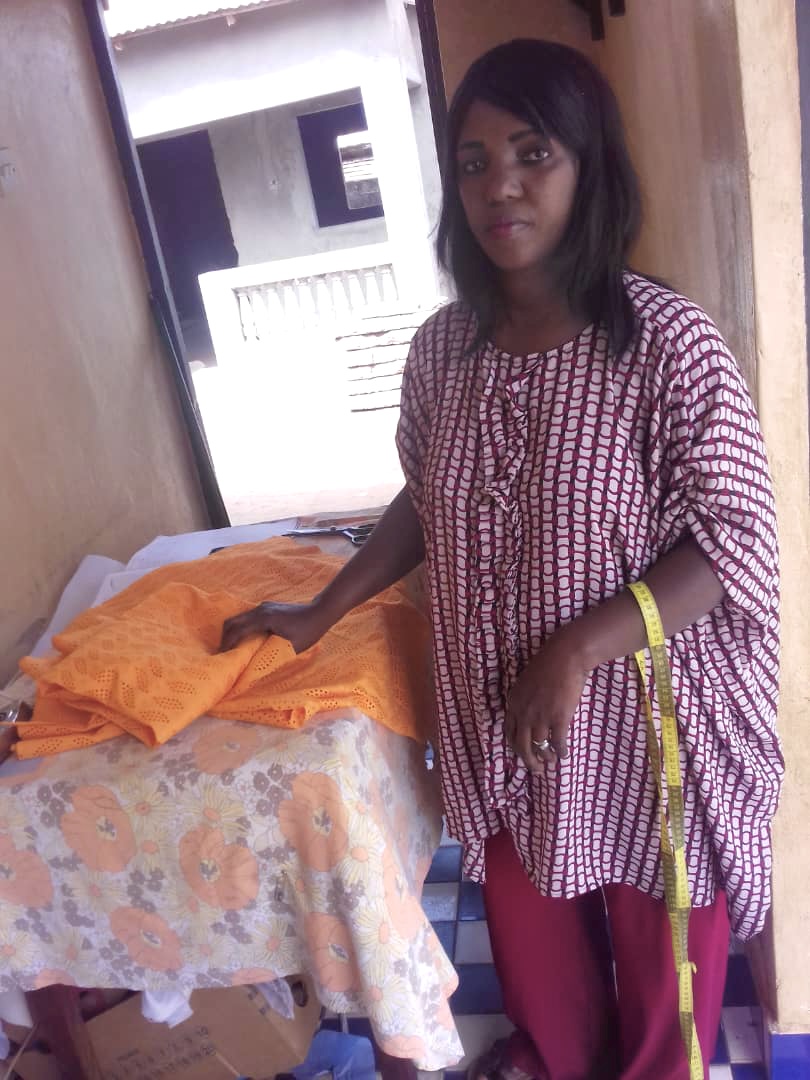 With just inspiration to fuel her passion, Mariama started her business in 2016, which she called "THEA's Tailoring and Fashion Designing". At the start of her business, she saw a need to build and expand, but also nurture her business capacity to enable her to compete in a growing market dominated by energetic young people like herself.
With support from the Youth Empowerment Project (YEP), Mariama improved her knowledge on running a business through entrepreneurship and other sector focused trainings. Reflecting on this journey, Mariama shared "Two years after registering my business, I saw a significant increase in my customer base. As a result, I expanded to employ three young people. The most important element that I learned from the entire process was financial management, and how to re-invest into my business to maximize production which in turn creates revenue."
In addition to the trainings received, the creative also benefitted from the Tekki Fii mini grant. The amount helped her procure designing machines and other required materials to boost her production. According to her, all of these were important in boosting THEA's goal to grow bigger and empower more young people.
At the period of this interview, she can be seen eagerly putting together clothing garments which are all coming out neatly, designed in special embroidery meant to make a statement.
Fashion Weekend Gambia is the biggest fashion event in The Gambia, and Mariama is super proud to have made the list for the 10th edition back in 2021. Recalling that moment with a wide smile, she said "being able to showcase at the Fashion Weekend to me means working harder to come up with brilliant ideas so that people can value my business, but to also connect with other fashion entrepreneurs as networking is key."
Navigating this pathway with high ambition can be daunting, but Mariama's plan she says, is to diversify her products to attract a wide customer base and win the hearts of fashion lovers both in The Gambia and in the sub-region. Mariama wants her goods to be everywhere, worn by all people who can find a perfect fit.
As part of her drive to keep pushing, Mariama highlighted "I am motivated to stay and make it in The Gambia. I am running my own business and equally creating jobs for others".
She went on to add this advice; "to my fellow youth, learn a skill. Take a step. This is how you create an opportunity to be employed or even employ".
---
Enjoyed this post by Bubacarr? Share it with others.
View count: 335
All posts