32-year-old Omar Fofana has grown to become an ardent cultivator on a 50-meter square land. Annually, he cultivates groundnut and has so far expanded to grow cashew trees. For years, this has been the young farmer's source of living. He is also a poultry farmer with 35 chickens and 4 ducks. He has a sizeable plantation of cassava. Farming is a daily activity for Omar.
In the village of Karantaba right at the heart of Kiang West, young people seem to not fancy farming and as such, they do not engage even though it is their best bet for a meaningful life. But Omar is built differently. However, standing out in a youthful population that does not subscribe to your ideals makes work even more difficult in the absence of motivation. So, he takes his work very seriously and capitalizes on any opportunity for growth. "Born and raised in the village, I grew up in farming because my father was a subsistence farmer and he had trained me since childhood."
With the difficulties in accessing water in a country that is highly dependent on rainfed agriculture, the continuous learning of productive ways has helped improve Omar's farming approach. For him, the Youth Empowerment Project Training was eye-opener and a barrier breaker.
Micro gardening is an intensive agricultural solution in which plants/vegetables are grown more intensively, making the best use of limited spaces and optimising water usage. Thus, it can improve livelihood, create jobs, and increase the competitiveness of smallholder farmers and vulnerable communities.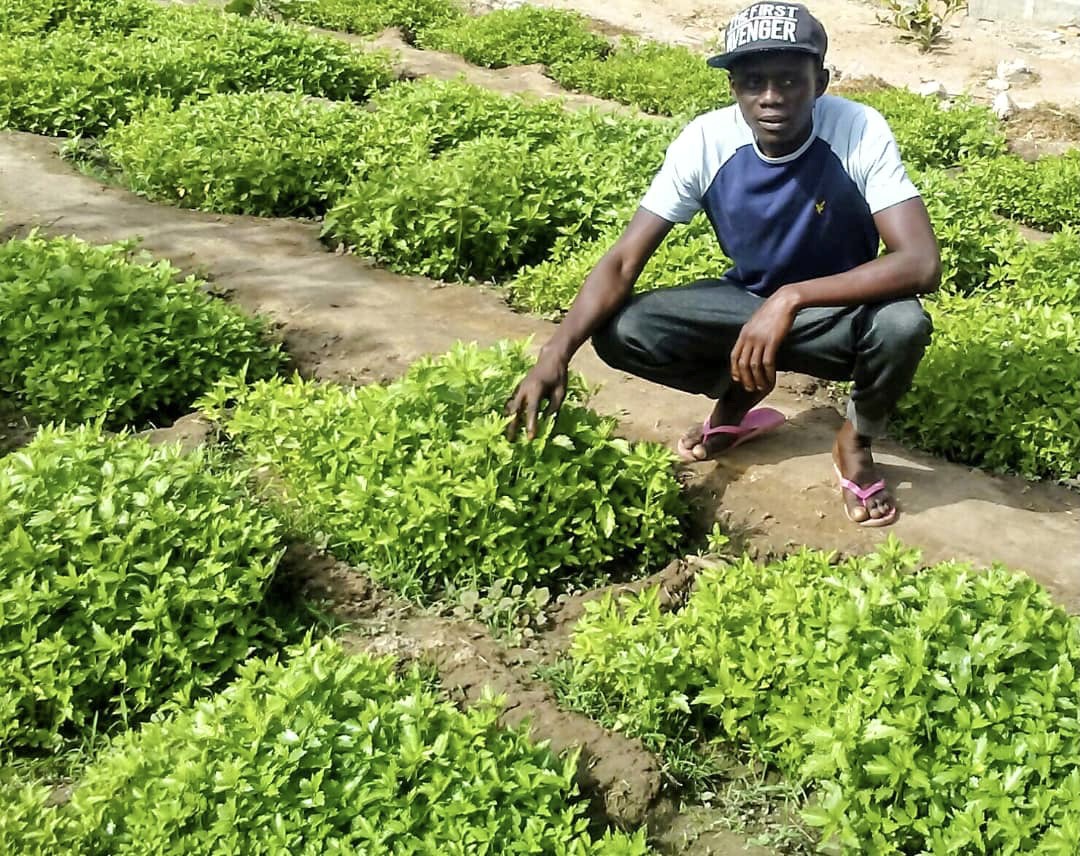 "The Micro Gardening training was intensive. We learnt best practices in Agricultural Production, Compost Making, Pest Control Mechanism, and Vegetable Production. It strengthened my believe that farming is beyond what the ordinary Gambian thinks, but something that can change the status of a developing country."
Omar is aware of the opportunities in The Gambia's farming industry which however come with the lack of access to markets due to transportation deficiencies. This has over the years deterred prospective farmers from taking this route seriously as he puts it. But he is making a change by utilizing his knowledge to build more dynamism in community members.
"I only cultivate in the rainy season and during the dry season, I work in the community garden to produce some vegetables. I have used this opportunity to train about 30 women farmers in the village. These women now have a proper understanding of vegetable production and have learned to make savings out of their sales which they have efficiently used to sustain their business and maintain a comfortable life." He expounded.
He is open to training and passing on his skills. As some youths prefer going to urban areas to look for more opportunities, Omar is using his skills to train and encourage them not to drift from rural areas, but to stay and be productive using their competitive advantage which is farming. Whilst looking at improving his business plan, the creative ideas gained after the training have convinced Omar that one does not need a big land to be productive in farming, but innovation and dedication can yield results that could last for a long time. "I plan to grow more than I'm doing, and I believe if there is support, it is possible here." He adds.
Omar is now with the impression that he can discourage rural-urban migration. As he progresses in his farming journey, he hopes to inspire more young people in his community to take charge of farming. "With the experience I have now and with much support, the sky is the only limit to build a self-reliant project."
---
Enjoyed this post by Bubacarr? Share it with others.
View count: 63
All posts