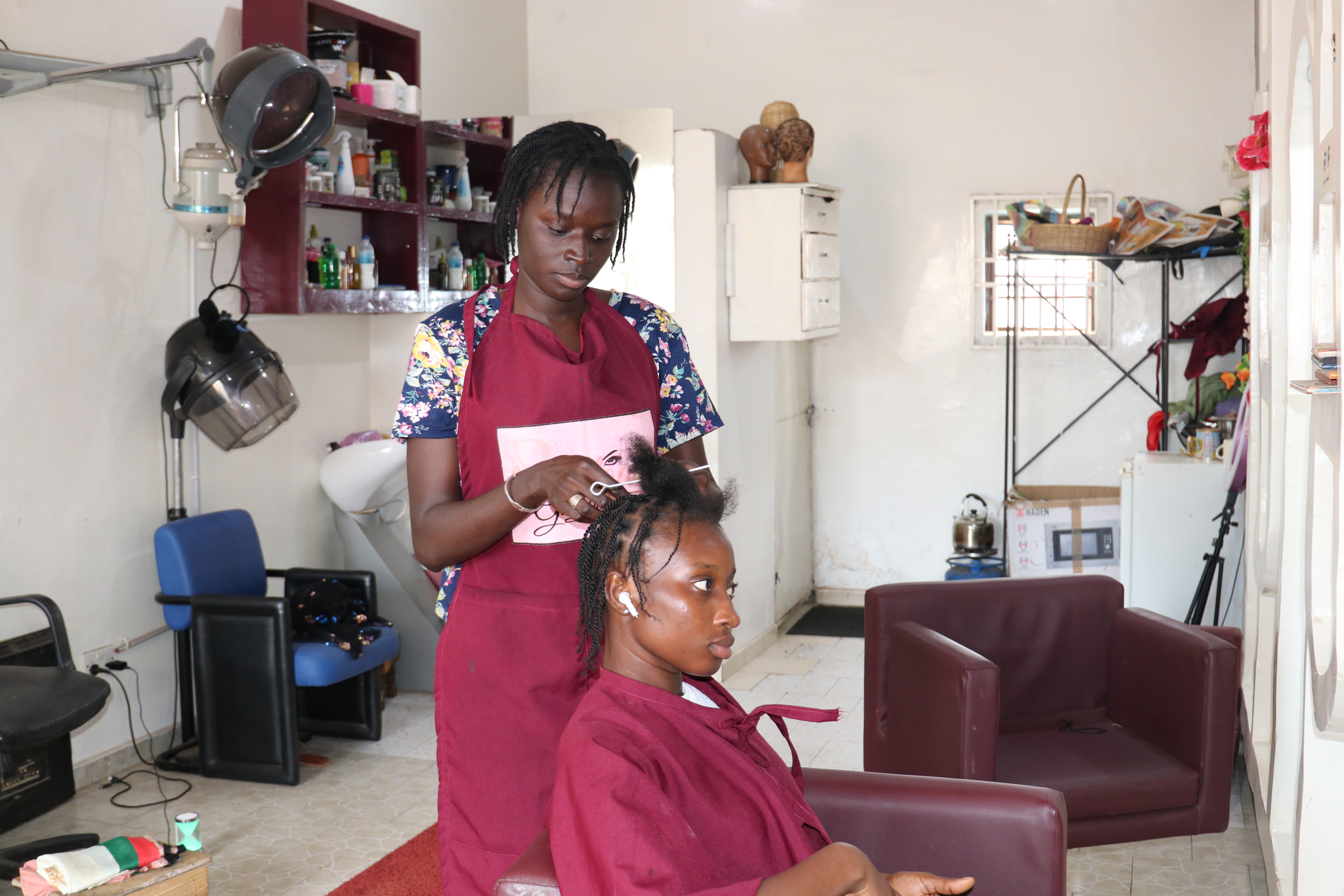 Bintou Ndure – Owner, Bintou`s Glowbelle
From a young age, Bintou loved doing people's hair and making them look beautiful. When she was in high school, she would use her free time to do the hair of some of her colleagues. She would also beautifully style the hair of her neighbours and help them apply their nails even at home.
"I do not know how I started doing it. It just came naturally. I was going to school and doing the hair of my colleagues. I remember even extending wigs for people and plaiting cornrows. I found solace in making people look beautiful," she said.
At this stage, the young Bintou knew she had a talent and passion for hairdressing. As a result, she was motivated to learn skills in hairdressing immediately after completing high school.
Driven by her passion, she jumped on a scholarship opportunity to study hairdressing upon completing high school. This would provide her with the skills to prepare her to become a professional hairdresser. Upon acquiring the skills, she took on an internship opportunity to further improve her skills in hairdressing and other beauty care services.
Today, Bintou Ndure, 27, owns a salon in the heart of Serrekunda providing hairdressing services to diverse customers. Her business – Bintou`s Glowbelle – offers services like makeup, ponytails, cornrow, pedicure and more.
Bintou started operating her salon with only three chairs, three mirrors, a few salon accessories, and one employee thanks to a loan she received from a close relative. Her journey is filled with hard work and dedication coupled with patience.
Starting, running, and expanding a business is a herculean task for many, especially young people who may not have the requisite knowledge and resources to successfully manage a business. In the beginning, Bintou faced challenges.
Her business did not have the visibility, this greatly affected her potential to expand. Recounting those difficult days, Bintou said: "People did not know my business at the time. I struggled to attract customers. It was hard to expand my customer base in the beginning."
Things would not get easier for Bintou. She almost closed her business because of the many challenges starting a business come with.
Taking an emotional look at her salon, Bintou said, "I wanted to give up. I was coming to work every day but the cost of running the business was overwhelming and it weighed on my shoulders. In addition, I struggled to pay the rent," she said with a low voice.
Today, she has expanded her business with over 5 employees and attracting customers in her community and beyond.
"Thanks to the knowledge I gained from the Andandorr Programme, I expanded from three chairs to eight chairs," she said with a wide smile.
The "Andandorr Programme" is an innovative entrepreneurship support programme launched in December 2019 and jointly implemented by various Business Support Organisations (BSOs) in The Gambia. The programme is supported by the International Trade Centre (ITC) through the European Union (EU) funded Youth Empowerment Project (YEP). At the core of the programme stands the spirit of "Andandorr" which means partnership in Wolof.
Bintou said the "Andandorr Programme" played a significant role in the success of her business. When asked about the impact of the training, she said, "I developed communication skills that were essential in attracting customers. I am now able to confidently communicate to potential customers thanks to the training. I was not doing this before the training"
On top of that, Bintou learned how to manage her finances. "The training also helped me to judiciously manage my revenue. Before the training, I would just make sales and will not record it. I was finding it difficult to track my expenses and income. Now I record everything that has to do with my finances – my expenses, profit, and income. I record everything – this helps me to know how much I earn daily, weekly, and monthly."
Consequently, Bintou has also seen a marked improvement in her earning. "My earning has improved, and it is because of the Andandorr programme."
Bintou also leverages the digital space to increase the visibility and sales of her products. "Now I have Instagram, Twitter, and Facebook accounts to market my products. I am also on Afrijula."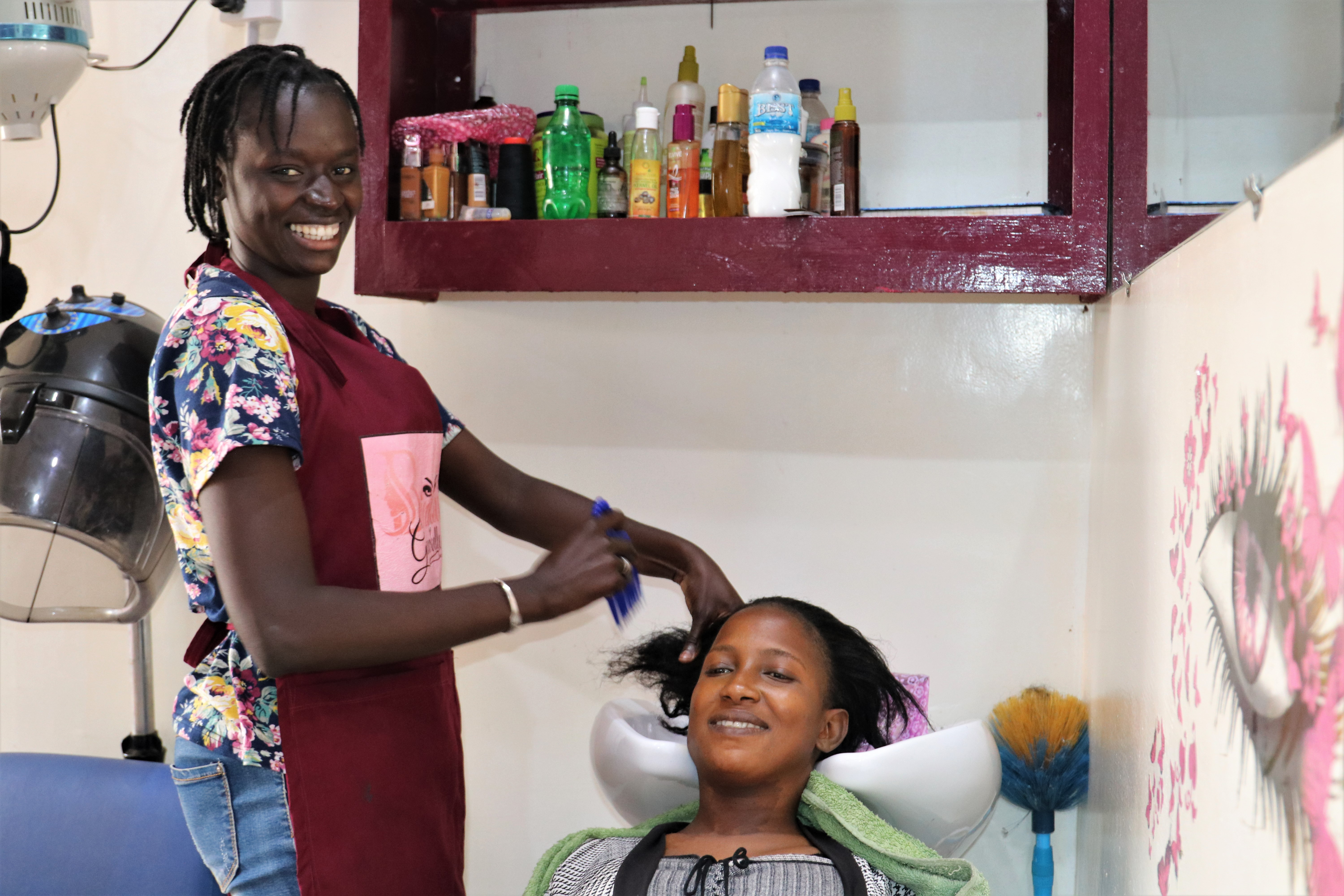 As part of the training programme, Bintou received coaching services that contributed to the success of her business. "The coaching was helpful. My coach would call me frequently to provide all the support I needed. She also brings customers," she said with a grin.
Bintou has also trained young people who have gone on to open their salons to earn an income. She is determined to train more young people.
Bintou`s plan for the future is to open a school and offer hairdressing and makeup training. She plans to make skills development opportunities accessible to young people and women, especially those who cannot afford to pay for their training programmes.
"So many young people and women want to learn the skills but do not have the fund. I would not have been here without the scholarship and the different training I received thanks to the Andandorr programme. I also intend to open a school to give more opportunities to the less privileged so that they can acquire the skills to become professionals. I was helped when I had nothing. To give back, it is my dream to one day open a training school and offer these services at an affordable price."
---
Enjoyed this post by Bubacarr? Share it with others.
View count: 154
All posts