29-year-old Sainabou Gaye is the proprietress of the African Swag Collection, a fashion brand she started with just D3000 from which she purchased a domestic sewing machine, scissors, and other necessary equipment. Working from home at the early days of the business was tough on the young Sainabou, "but today my brand can be listed among the top-ten fashion brands in The Gambia." Proudly adding that it started with a domestic machine to an industrial production center that has a separate showroom and equally employs and trains young Gambians.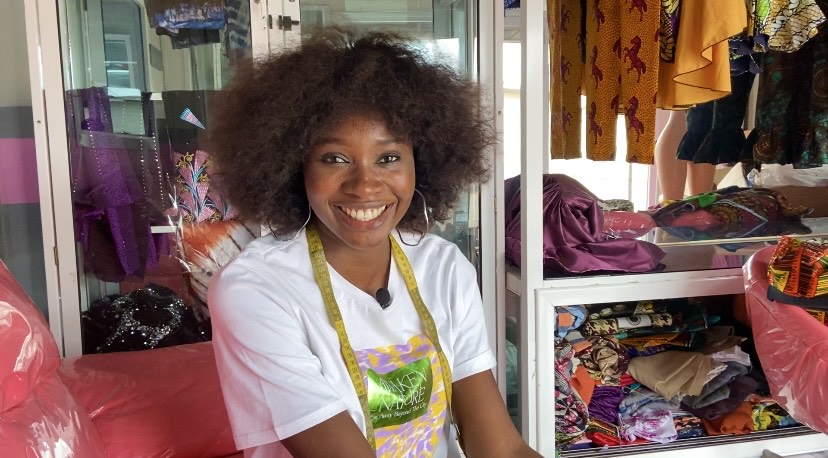 Sainabou benefitted from the Youth Empowerment Project (YEP) capacity-building training on mentorship and coaching. As someone whose product is usually in rapid demand by all factions of society especially high-end users, she got the opportunity to be part of the beneficiaries that were selected for The Andandorr Export Advancement Programme (EAP). The EAP is a collaboration between the Gambia Investment and Export Promotion Agency (GIEPA) and the International Trade Centre (ITC) under the She Trades Gambia project and YEP.
"Through the Andandorr programme, I was one of the 4 selected representatives from The Gambia, in the Africa Continental Free Trade Area (AFCFTA) program held in Ghana. She added, "the most important element I learned which is beneficial to my business is networking as it is the fastest way of building business linkages and maximizing brand visibility."
Sainabou is not only about making a profit in tailoring and fashion designing, but also trains young people who are passionate about acquiring the skills. "I am doing this because I believe that every young Gambian can make it here. To inculcate this in the minds of the young people, I believe one should practice it continuously."
Indeed, change starts with oneself, and to solidify that statement, one must be committed to matching words with action. Making the Tekki Fii dream a reality, Sainabou explains, is for the youth to make a deliberate effort towards building and wanting to grow. "The programme is a big encouragement for every youth, as it will provide you with all the necessary equipment needed and competently pushes you through," She stressed.
Institutionalizing her business is one of Sainabou's biggest plans to broaden the creative net while training and employing young Gambians who have the potential to be great.
"My advice to my fellow youth is to stick to their dreams and often take action immediately because an idea remains an idea until the day one implements it. I say no to the Back Way, Tekki Fii by force with pragmatism".
---
Enjoyed this post by Isatou? Share it with others.
View count: 764
All posts