Imagine living under the roof and care of an elder brother, to owning a fully built compound, living independently and creating jobs for about 20 young people.
Muhammed Lamin Touray is a young man from Farato living this Tekki Fii reality through CSEB.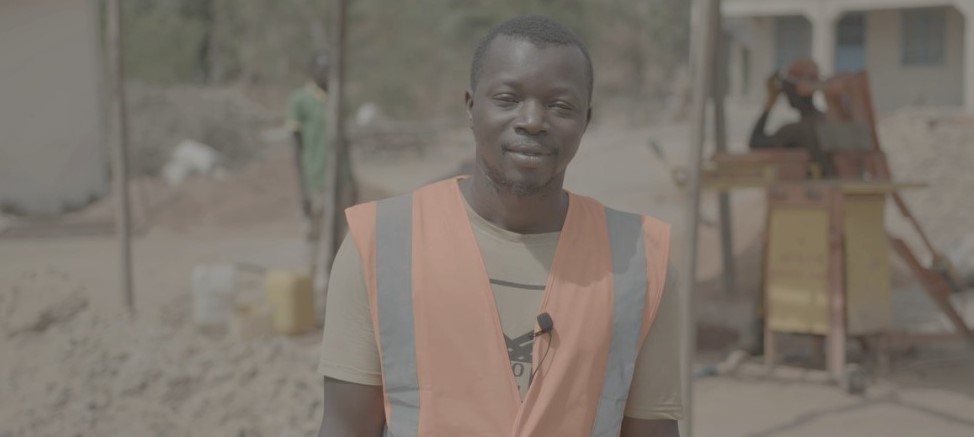 Like a lot of unemployed youth, he was entirely dependent on others for daily sustenance. Muhammed Lamin would wake up each day with nothing in his pocket. He felt frustrated most times and on a few occasions, contemplated embarking on the backway journey to Europe.
One day, his brother introduced him to a man from Germany, who would train and expose him to construction using the CSEB technology. According to Muhammed Lamin, "After just three months, I was able to mold bricks and construct a complete space. This goes to show that to learn how to build with the CSEB technology does not really take a long time."
CSEB, sometimes called, Pressed Earth Blocks, are construction material made using damp soil under high amount of pressure to form blocks. They are composed of dry inorganic subsoil, non-expansive clay, aggregates and a measure of 10 to 20 percent cement. CSEBs are environmentally friendly, cost effective in comparison to the Cement blocks which are widely used in The Gambia for construction.
When Muhammed Lamin started construction on his own, he faced a few challenges. With limited knowledge in the technology, he struggled to convince clients and withstand the competition from the Cement blocks. Reflecting on those moments, Mr. Touray shared "I found it difficult financially because I could not afford to buy the Compressing Machine. So, I would always rent a machine to mold my bricks. This was a major stumbling block for me". The Compressing Machines, which has about 28 different mold forms and sizes, costs between 500 to 750 thousand dalasis. This cost, according to Muhammed Lamin is still why most of his compatriots are not able to buy machines of their own.
However, this did not diminish Muhammed Lamin's determination to grow. From a small team of three youths, he has grown to expand his human resource capacity to a medium company scale.
With beaming eyes and a vigorously proud voice, Mr. Touray stretched his arms, indicating with his fingers "I started with a few people, but today, there are four teams comprising a minimum of five youths each. They are all working on different construction projects across the country, from Basse to Tanji.
To put his current state into perspective, Muhammed Lamin added "I have now built my own compound, brought in electricity and recently, I brought in water supply all through my construction with CSEB".
This he says, is a lesson he teaches to not just those he works with, but other youth who are unemployed or are finding it difficult to a smooth path.
Moving up the ladder of success can be a difficult and frustrating journey but as Muhammed Lamin shows, with persistence and determination, anyone can achieve success anywhere. "With my skill, I am able to help not just myself, but other youth and my community at large" he concluded
---
Enjoyed this post by Isatou? Share it with others.
View count: 509
All posts
Related post:

As a beneficiary of the Youth Empowerment Project Andandorr programme, Modou has developed skills to support the management and growth of his business. When reflecting on his Andandorr journey, he said "through this programme, I have learnt better ways to manage my business and maintain a standard record of my...

Posted 2 years ago